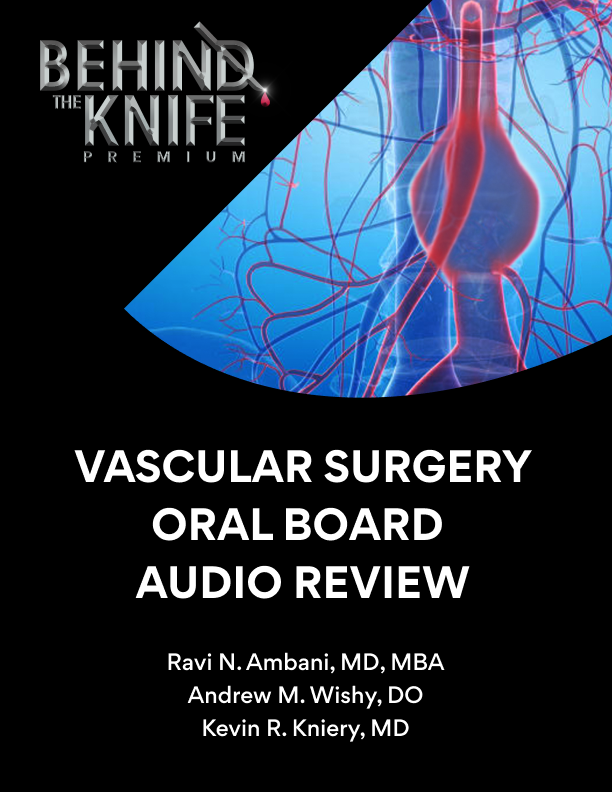 Dominate the Vascular Oral Boards



with BTK!
Our Vascular Surgery Oral Board Audio Review includes 72 high-yield scenarios that cover the majority of the VSCORE topics designed for Vascular Surgeons by Vascular Surgeons.  
Scenarios are 5 to 7 minutes long and include a variety of tactics and styles. If you are able to achieve this level of performance in your preparation you are sure to pass the oral exam with flying colors. The second part introduces high-yield commentary to each scenario. This commentary includes tips and tricks to help you dominate the most challenging scenarios in addition to practical, easy-to-understand teaching that covers the most confusing topics we face as vascular surgeons. We are confident you will find this unique, dual format approach a highly effective way to prepare for the test.

Our Vascular Surgery Oral Board Book is available on Amazon here.



** Teachable offers an iOS app. We are aware of potential issues with the app that prevent a small amount of users from using the app. We are working on developing our own BTK platform that will include both Android and iOS apps. In the meantime, Teachable is our best platform option for our premium content. If you have any issues with the app, please email 

[email protected]

 and we are happy to help find a solution. **
Institutional and Military Discounts
Institutional Group and Military Discounts.
If inquiring about Military Discounts, please send the email from your .mil email address.